2022 Spring Concert Series
WELCOME TO THE RETURN OF LIVE CHAMBER MUSIC!
Our Spring 2022 concert series offers a unique opportunity for Whistler audiences to enjoy small ensemble performances by some of British Canada's and Canada's top classical musicians.
In this shortened season (subject to potential COVID restrictions) we are excited to present two diverse ensembles made up of highly-talented musicians we know you will enjoy.
Join us to experience the rewards that hearing live performances of great music can bring.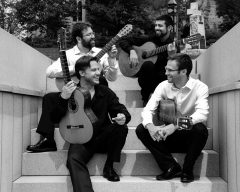 For over twenty years, The Canadian Guitar Quartet has been dazzling audiences with their brilliant and imaginative performances. The mix of dynamic original music and classical masterpieces make a Canadian Guitar Quartet concert an unforgettable experience.
Buy

Tickets
Info
2022-03-20 17:00:00
2022-03-20 18:00:00
America/Vancouver
Canadian Guitar Quartet - Whistler Chamber Music
4335 Blackcomb Way
Whistler Chamber Music Society
[email protected]
Four talented wind players from the Vancouver Symphony Orchestra join with internationally-acclaimed pianist Bogdon Dulu to bring you the best of piano-wind chamber repertoire. The technical skill and expressive interpretation these accomplished musicians bring to the music continue to impress even the most discerning of audiences.
Buy

Tickets
Info
2022-05-15 17:00:00
2022-05-15 18:00:00
America/Vancouver
Dulu Quintet - Whistler Chamber Music
4335 Blackcomb Way, Whistler, BC
Whistler Chamber Music Society
[email protected]
For your convenience you can download and print our brochure
Print Brochure